Potted or Bareroot?
Buying our garden roses is a very easy process and available throughout the year, this can be easily achieved in 4 different ways either by mail order or collection. Whether you choose potted or bareroot roses, we grow a fabulous and unique collection of well over 400 different varieties of modern, healthy, and free flowering roses with each one available to order and buy as a potted or bareroot plant. 
If you are new to garden roses, you are in for a treat! Despite many new gardeners' initial in-built fears, growing modern bred and very healthy garden roses is extremely easy and rewarding. But do you know if you want a potted or bareroot rose? Following a few simple steps and rules each year will reward you with wonderful all summer displays of beautiful blooms and fragrance for many years.
All rose orders are supplied with full aftercare information along with a comprehensive 'what to do next' leaflet which takes you through exactly what's required through the important early stages of planting and establishment.
Buying a gift rose? Why not add floristry gift wrap and bow in a colour to match the occasion or gender of the gift recipient, along with a personalised high-quality card containing your own special message to your order to add the perfect final personal touch to your purchase. Simply add in the details whilst in the basket or checkout area.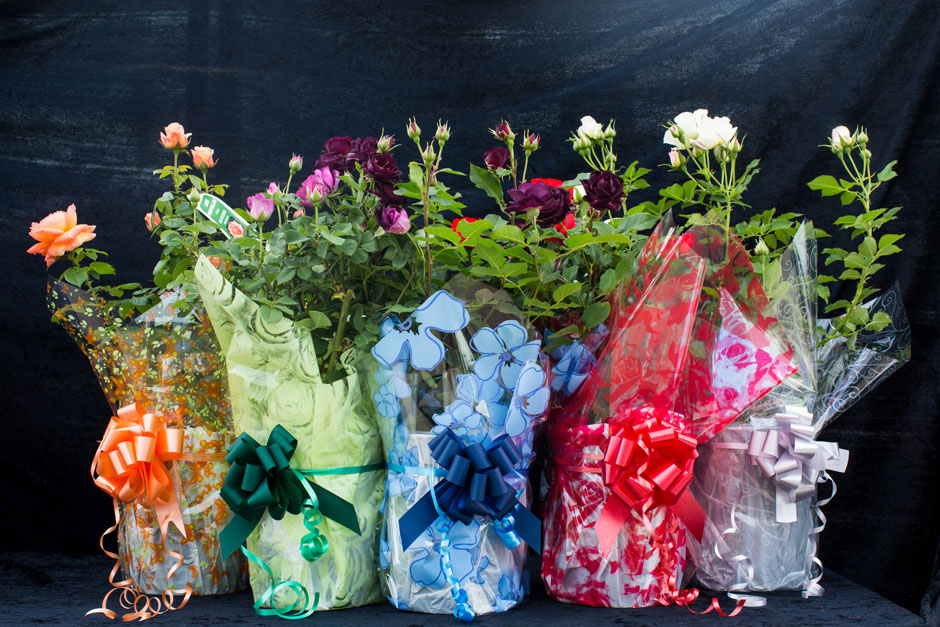 Free delivery is available to most areas in the UK for purchases of rose plants only £100 of non-mixed potted or bareroot orders.
We highly recommend with both potted and bareroot roses that you also order some Rootgrow with your order, to both strongly improve faster and stronger establishment and help with poor, dry or sandy soil conditions. Using Rootgrow also allows you to safely plant where roses have grown before without suffering from rose re-plant sickness, full and very clear easy aftercare instructions are included with every order.
Potted or Bareroot Garden Roses?
Bareroot roses (supplied November to March) are supplied freshly lifted with soil free roots from our rose field having then reached a plant age of 18-24 months and flowered fully and happily grown in the healthiest of conditions during its second year with us. Every bareroot rose supplied is carefully and individually selected for health and quality and hand dug to order on the day of dispatch, they are then labelled, carefully inspected again for quality, hand pruned ready for planting, dipped in water, and wrapped in recyclable film to conserve moisture and enabling the roses to be kept safely in the packaging provided for up to 3 weeks before planting.  Bareroot roses are supplied in a mature hardened off dormant to semi-dormant stage of growth and will flower as normal the following summer after you plant them.
Each rose is individually labelled with a long-lasting name tag containing full description details and a small colour picture of the rose, every rose is visually quality checked and stems correctly hand pruned down to a bud and the right size all ready for planting, roots are also hand pruned to encourage a fibrous root system which can better deal with hot and dry conditions in summer months. 
Visually Bareroot roses don't look very exciting! Don't worry, they will soon turn into beautiful flowering plants. Because they are dormant, they are supplied as bare thorny stems normally, if leaves are also present, especially on early orders, they will normally go brown and fall off leaving just the bare stems that will quickly start to re-shoot. Planting them is very easy, bareroot roses supplied will seem small in comparison to established roses but nearly every variety we supply will be flowering by the following June or July after planting and at its full size (excluding Climbers and Ramblers) by the end of the first year after planting.
Bareroot roses can be ordered in advance from July and our bareroot orders are dispatched on a rotational basis from when you placed your order, it normally takes around a month, subject to weather to clear the backlog of bareroot orders which we start dispatching from the first week of November, bareroot roses ordered from December to March are normally dispatched, subject to weather in 1-3 working days, if your delivery date is important please state it in checkout and have them 1 day before needed just in case of delivery issues due to weather or transportation.
Advantages of bareroot roses
1. Cheapest way to buy our roses.
2. If supplied November to February, can be stored in a cool draft free area for up to 3 weeks in packaging provided if you are not ready to plant.
3. Easy to plant
4. Require little watering to establish if supplied November to February
5. Can be ordered early, from July, to ensure supply in November
6. The only way to receive our Standard roses by mail order.
7. Most environmentally friendly way to plant garden roses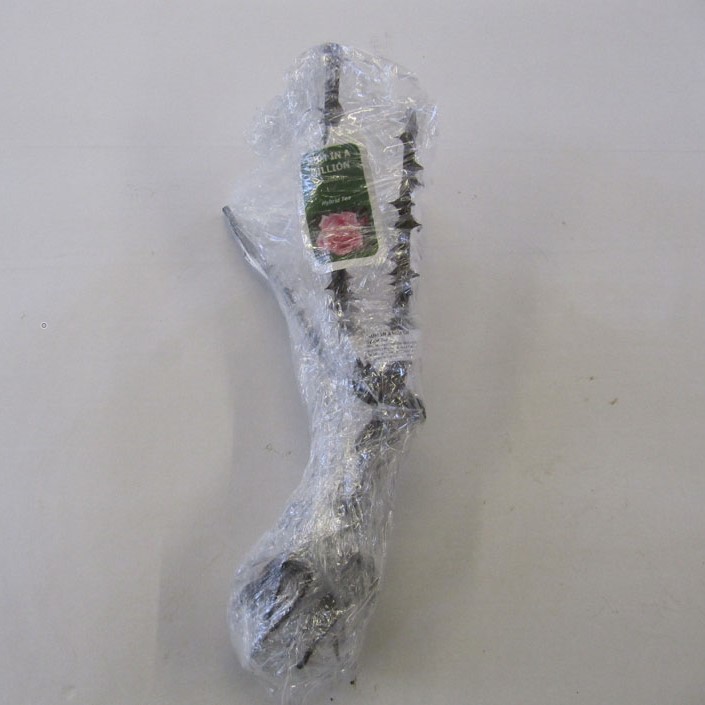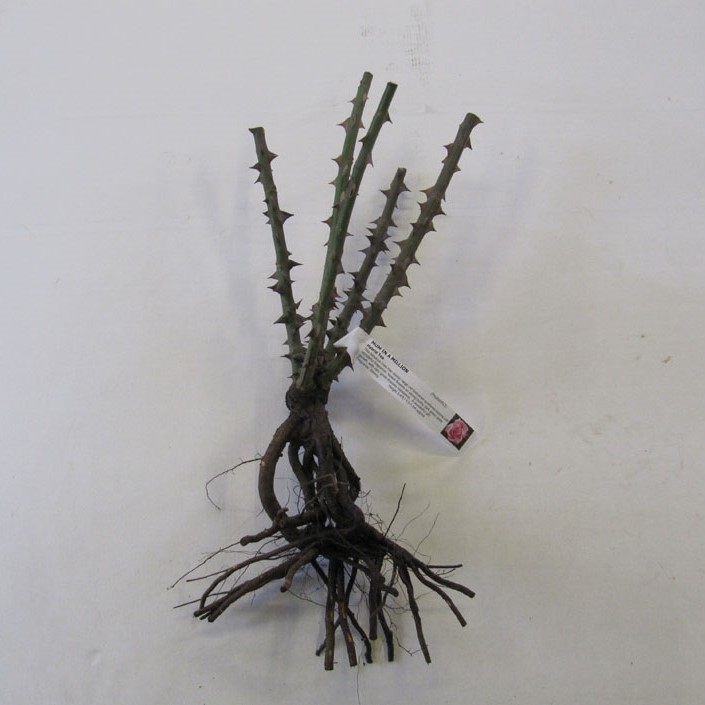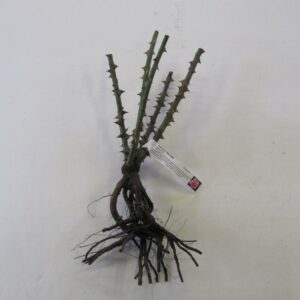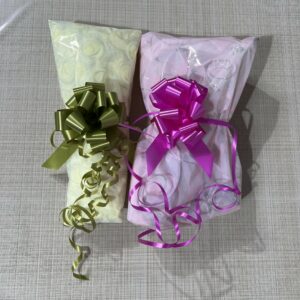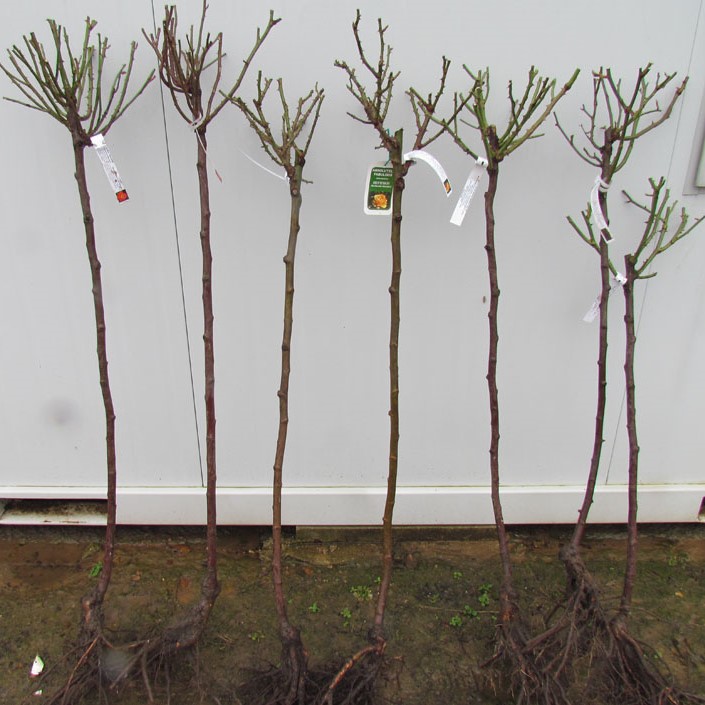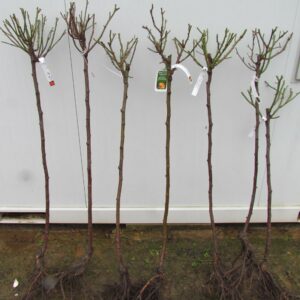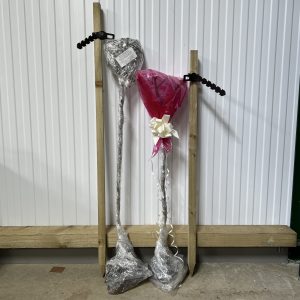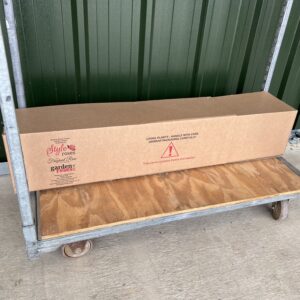 POTTED ROSES
Roses supplied in pots can be planted at any time of the year and are available by mail order from us all year round, this is by far the most popular way of ordering and planting our garden roses. If you are giving the rose as a gift this is the best way of doing it as you are buying something that looks much more substantial than bareroot plants and the lucky recipient doesn't have to anything with it until they are ready to plant it other than placing the pot outside and watering regularly.
They come supplied in a strong plastic 5.5lt size pot which is made from recycled plastic which  is also recyclable again after use. Our compost is a unique and special environmentally friendly mix of high grade Peat, safely harvested from non-sensitive areas with added Loam and wood fibre to further reduce any impact to the environment, the compost also contains a slow release feed which will keep the rose fed and happy through its first year with you.
Potted roses supplied between October and early summer may well have been recently potted when supplied, this means the stems and branches could be bare and dormant and the roots will have not yet rooted fully into the compost. If this is the case, we will clearly indicate this to you when supplied with a large red information label tied on the top of a stem and also a warning label on the pot,  it is very important that you do not attempt to take it out of the pot until the rose is in full leaf and fully rooted into the compost which will be somewhere between late Spring and mid Summer, transferring the rose from the pot before full rooting has happened will damage the root system and may quickly result in severely checking back the rose growth, loss of foliage and likely death of the plant, We do not offer our free replacement guarantee on any roses lost in this way and we will not replace free of charge– So please be patient and follow the clear instructions and you will be rewarded the following summer with beautiful flowering roses! 
As already mentioned, Potted Roses make a great long lasting gift and wherever possible in summer months we will select your rose from our nursery bed with either buds, opening flowers or both, even without leaves in winter months they can look very attractive when professionally gift wrapped by us in Floristry cellophane, with an added large bow and a large colour swing tag picture label with full description details,  Also whilst in checkout you can add a quality and unique rose gift card containing your own special printed message.
 Any potted rose supplied as a gift to another address will not contain price or payment details, just a dispatch note saying who placed the order. Every order is also supplied with our aftercare guide which tells you everything you need to know about caring for your garden roses in a simple and easy way throughout the year.
Later season potted roses (July to October) may have already flowered once or twice when supplied and have been pruned back either to flower again in a few more weeks or the following year.  
Advantages of potted roses
1. Can be purchased and dispatched all year round
2. Best and most attractive option to give as a gift
3. Very easy to deal with on receipt, simply put outside and keep watered until the rose and you are ready to plant
4. Can be kept in pot provided for up to 12 months if kept well-watered.
5. Short wait for blooms if supplied late Spring to September.
6. Easy to maintain in a pot
7. Safest way of avoiding frost damage, winter die-back to stems and loss by easily moving potted rose to a cool frost-free area during periods of severe winter weather (e.g Beast from the East, constant freezing day and night temperatures).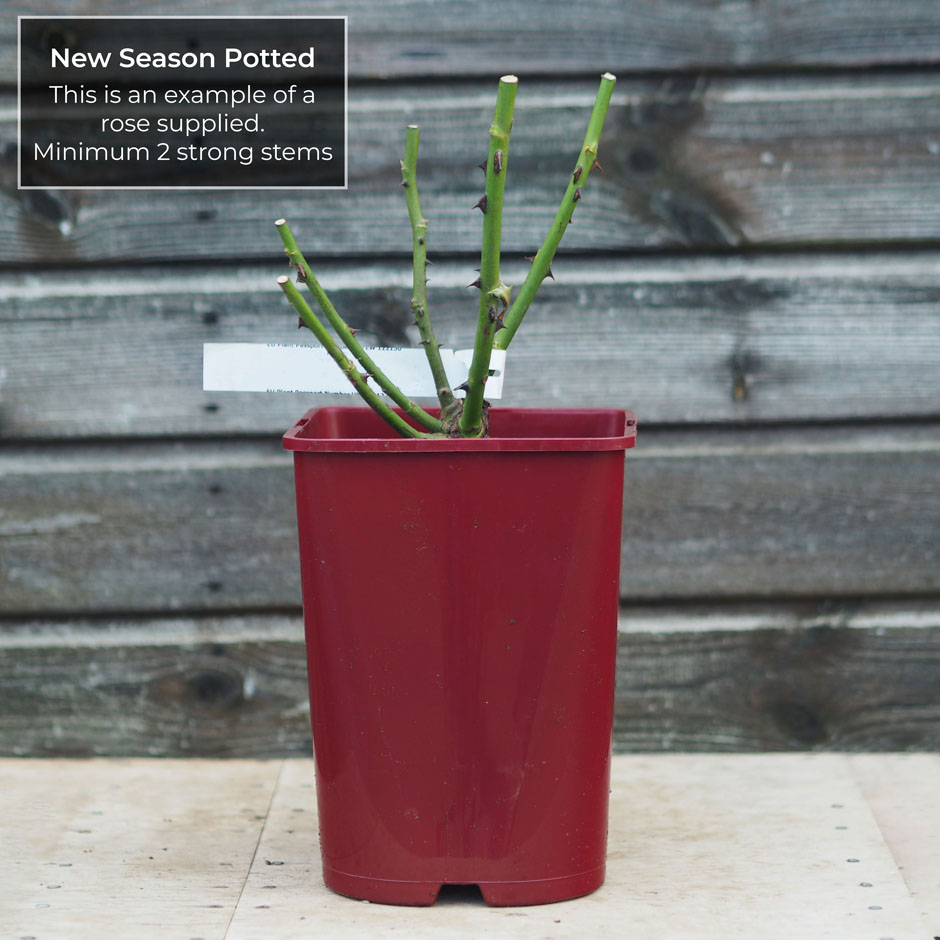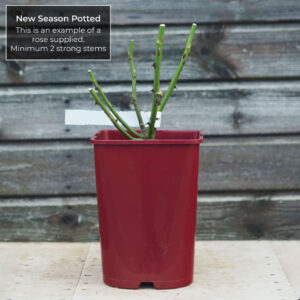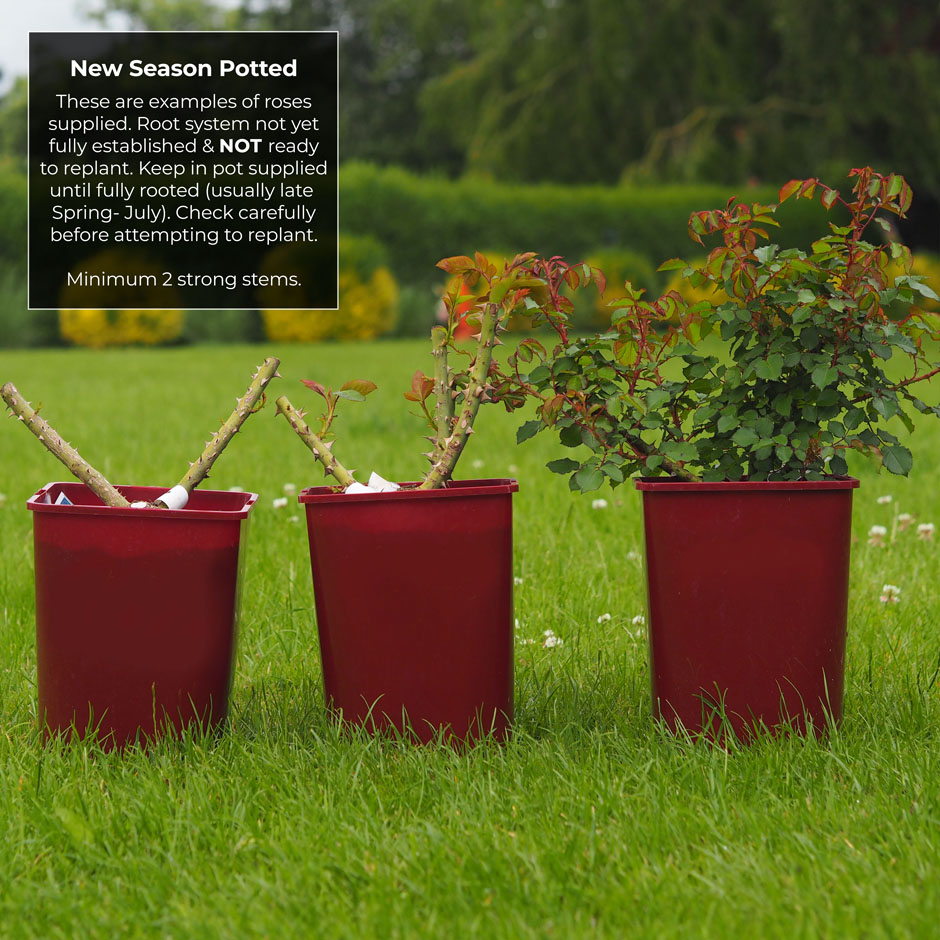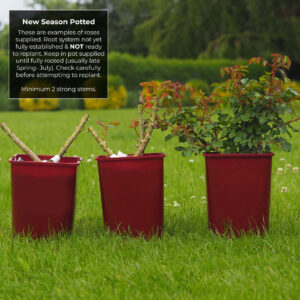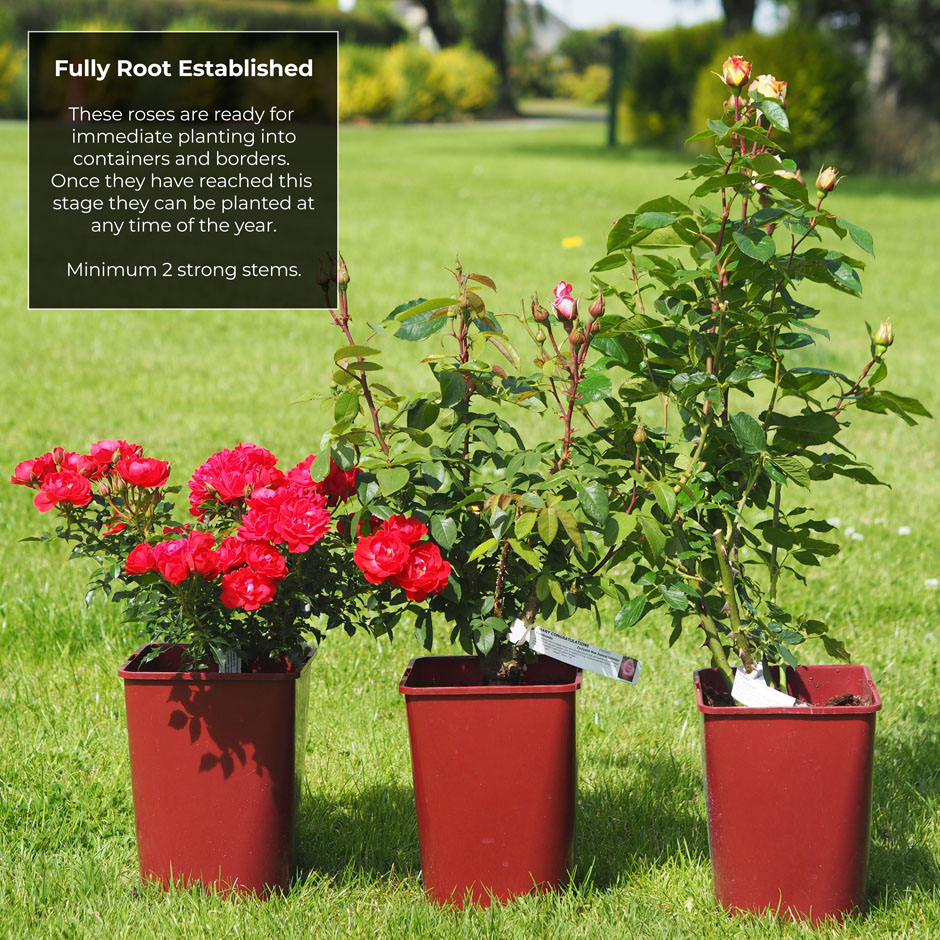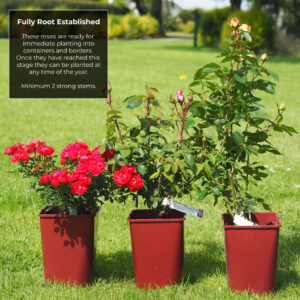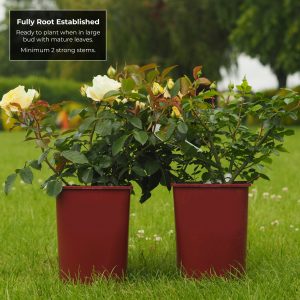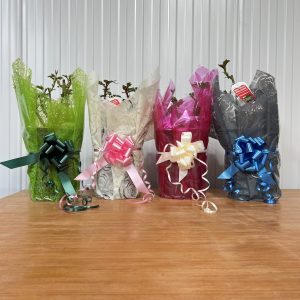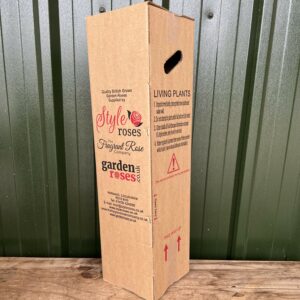 COLLECTION FROM NURSERY / NURSERY VISITS – PE12 8AG
Apart from Bank Holidays and Christmas to New Year, our nursery is open weekdays from 9am to 5pm where we will be delighted to meet you without appointment and offer a warm and friendly welcome, expert advice on roses and we will help give you guidance where needed on the best kind of rose for your particular planting area. Weekend opening varies depending on the time of the year and workload, to avoid any possible disappointment please ring in advance to arrange a weekend visit or collection of a pre-placed telephone order. The nursery has 3ft wide concrete level paths and no steps, so wheelchair visitors are also very welcome but please bear in mind our toilet facilities do require you to enter on foot and do not have disabled facilities.
Calling at the nursery, especially in the early summer months gives you a unique and wonderful opportunity to view up to 450 varieties of roses in flower in almost every colour imaginable with a heady rose fragrance all around on sultry sunny warm summer days. It also gives you the opportunity to buy our Standard Roses in pots at any time of the year as by mail order we can only supply our Standard Roses as bareroot roses from November to March.
Our Rose Field located close by is also open to field visitors between Mid June and October where you can see every variety we grow in flower and fantastic displays and strong aromas of colour and beautiful rose scents from spicy, musky, fruity to sweet, we strongly recommend you wear thick outdoor trousers and sturdy walking boots for this and to be aware of the strong likelihood of rose thorns and possible pricking and cuts whilst walking in close proximity to the plants.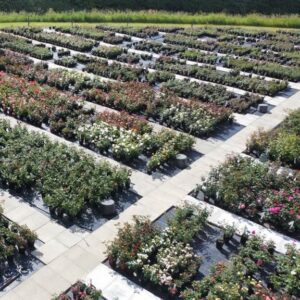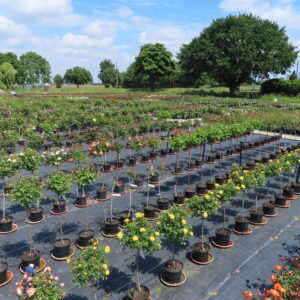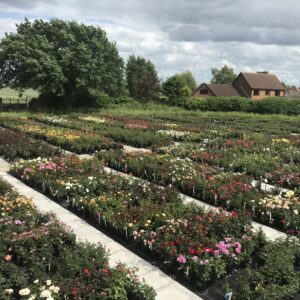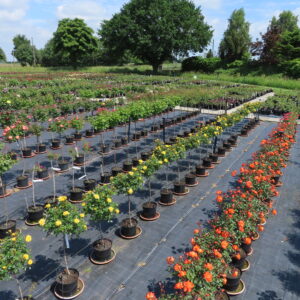 GARDEN SHOWS
Covid 19 has meant We now currently attend much fewer garden shows currently and we recommend you follow us on social media or see our Show detail pages on our website for details and dates, the shows are always a great day out with many true plant nurseries attending where you can always find a huge selection of Quality plants, attractive outdoor show gardens, demonstrations and wonderful plant displays in the floral marquees. There is also usually plenty of other garden related stands including tools and buildings, music, great food stalls and catering facilities. You can also take advantage of discounted roses and multiple purchase offers from us at these events.
Purchased roses at garden shows are placed into a specially designed, easy carry, handled strong plastic sleeve. Standard roses are bagged at the base/pot to prevent any compost spillage in your vehicle. Porter and Plant Crèche facilities are usually provided close by at each show or if space allows, we can usually hold your purchased roses for you until the end of the show on the day purchased, allowing you to continue enjoying the rest of the show.
PRE-BOOK YOUR ROSES! If you are looking to buy specific varieties and avoid any possible disappointment at the show with your rose purchases, it's a very good idea to pre-book your roses by telephone 01406 424089 with us at least 2 days before the show starts, we can then reserve the nicest looking  plants for you on the nursery beds with your name on them and bring them along to the show in advance of your visit for you to collect at your convenience. All we ask for when booking is a small non-refundable 10% deposit to cover our additional costs, pre-booked roses are sold at our usual retail prices with no additional discount to cover the additional costs involved in providing this service.